We're all curious. We're all also a bit competitive by nature. We all have our business nemesis, that guy that keeps turning up at networking events, whose website keeps appearing under search terms you're targeting, whose name keeps cropping up during prospective client discussions. Even though we may highly respect them, a bit of healthy competition never goes astray so it's also a good idea to keep a close eye on them (and maybe grab a few good ideas along the way). Fortunately online, there are plenty of tools to allow you to do that. Here are a couple of my favorites
Social Mention – There are several monitoring tools out there but I like this the best (though I find Trackur to be slightly more comprehensive, just more expensive for a cheap bastard like myself). It's also more comprehensive than Google Alerts and also sends you alerts via email and rss depending on your preference. Pop in your competitor domain name and see if there's any chatter.
Twitter – mainstream adoption of Twitter has given rise to an increased ability to snoop. If your competitor has a twitter handle, following them may be very handy otherwise creating a couple of columns in your favorite twitter client (tweetdeck is mine but there are plenty of others). Pop in their domain or a persons name or business name and see what they're up to.
Compete, Quantcast, Alexa and Google Insights – I'm lumping these all together because quite often, by themselves, they may be a little short on data. Out of these compete.com probably has the most data available and you can put your competitor's website alongside your own. Keep in mind that accuracy may be questionable and this should not be taken as lore.
Open Site Explorer – one of my favorite SEO tools can also give you an overview at how you stack up against your competition. In addition to the overall stats you can also take a peek at who is linking to them and maybe some additional reasons why.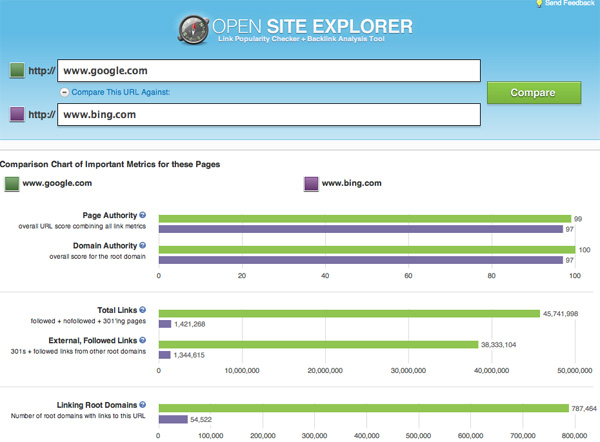 There are some additional 'geekier' options if you're interested in delving a little deeper like checking their website server environment, domain age or to compare search engine rankings but now you're starting to get a little obsessive so time to get back to concentrating on your own business. Any other useful tools?